Health First: Staying Safe Amid Flu and Virus Outbreaks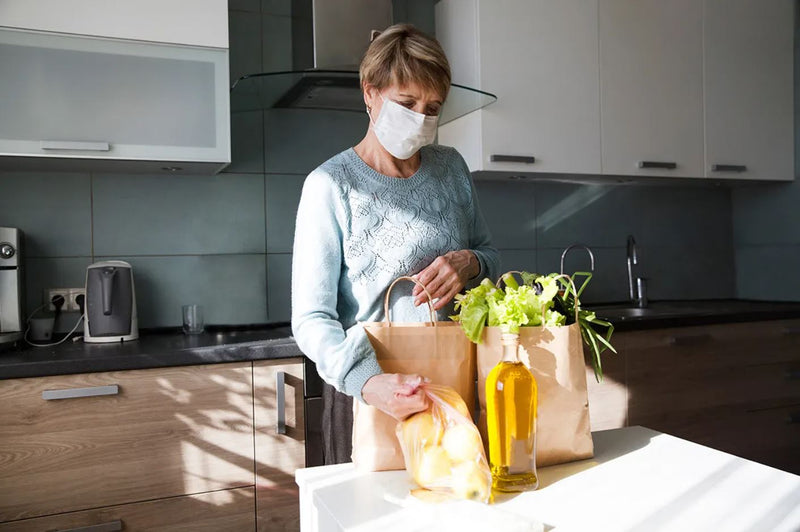 Like seasonal clockwork, the flip of the calendar from August to September also represents the start of cold and flu season in the U.S. And though 2020 has significantly redefined what that can look like, the old adage of offense being the best defense still holds true: through careful planning, older adults can effectively mitigate not only seasonal flu and virus outbreaks, but rarefied virus variants as well.
Leveraging a series of common-sense measures and home technology support solutions, seniors can age in place with the right access to health and safety resources.
Learnings of a Pandemic: How COVID-19 Changed the Landscape of Cold and Flu Season Preparedness
At the writing of this, scientists and epidemiologists are still doing the hard work of trying to understand more about the novel coronavirus which causes COVID-19 disease, though one thing has been fairly clear: it has been more dangerous for older adults than other age groups.
But it also appears to manifest itself differently among senior populations.
According to a recent blog post from Kaiser, "COVID-19 is typically signaled by three symptoms: a fever, an insistent cough and shortness of breath. But older adults may have none of these characteristics.
Instead, seniors may just feel "off" after being infected by the coronavirus. They can become dizzy and fall, [or simply] stop speaking."
The reason? It has to do with how our bodies respond to illness and infection at different ages – which is a consistent phenomenon across almost all types of virus and flu outbreaks. Older adult symptoms to the flu and senior flu complications have long been debated over the years.
Senior Flu Symptoms
According to the CDC: "It has been recognized for many years that people 65 years and older are at high risk of developing serious complications from flu compared with young, healthy adults. This is in part because human immune defenses become weaker with increasing age. While flu seasons can vary in severity, during most seasons, people 65 years and older bear the greatest burden of severe flu disease."
But the good news is – this pandemic has provided us with powerful insight into how to best prepare for flu and virus outbreaks, along with tools that work to not only keep older adults safe and healthy, but connected to loved ones as well. In fact, the diligence to measures such as regular hand washing and social distancing associated with COVID-19 have all but stomped out the seasonal flu this spring.
Incorporating the strategies learned in the pandemic of early 2020 will serve to inform how we manage disease outbreaks in the future – and allow us to plan in advance to ensure long-term health and safety of elderly, even under the most dire of circumstances.
Your Health: Back to Basics
The cold and flu seasons are best addressed offensively with diligent good health habits: the CDC provides a wealth of tips and resources to protect yourself and others from virus and flu germs and help stop the spread of illness.
Everyday preventive actions, called nonpharmaceutical interventions (NPIs), are actions that people and communities can take to help slow the spread of illnesses – and which have proved to be invaluable. These senior health tips include:
Avoid close contactwith people who are sick. When you are sick, keep your distance from others to protect them from getting sick too.
Stay home when you are sickfrom work, school, and errands. Staying safe at home will help prevent spreading your illness to others.
Cover your mouth and nose with a tissue when coughing or sneezing. It may prevent those around you from getting sick. Flu and other serious respiratory illnesses, like respiratory syncytial virus (RSV), whooping cough, and severe acute respiratory syndrome (SARS), are spread by cough, sneezing or unclean hands.
Washing your handsoften will help protect you from germs. If soap and water are not available, use an alcohol-based hand rub.
Avoid touching your eyes, nose or mouth because germs are often spread when a person touches something that is contaminated and then touches his or her eyes, nose, or mouth.
Clean and disinfect frequentlytouched surfaces at home, work or school, especially when someone is ill.
Get plenty of sleep, be physically active, manage your stress, drink plenty of fluids, and eat nutritious food; these are allhealthy habits for seniors.
"The NPIs developed by the CDC are designed to slow the spread of illnesses, particularly those for which we haven't yet built up an immunity and for which there is no vaccine," said Dr. Sonja Bartolome, MD at the UT Southwestern Medical Center.
And they work. NPIs played a vital role in limiting and eventually slowing the spread of the H1N1 novel influenza virus in 2009. And decades before the CDC was founded, U.S. public officials implemented NPIs during the 1918 Spanish flu pandemic to a large degree of success: Cities that closed schools and businesses were able to recover more quickly, whereas cities like Philadelphia, which famously went ahead with a war bonds parade and other public gatherings, were devastated by infections and fatalities.
Homecare for Seniors: Enhanced Safety and Support
For many people, the term "shelter in place" may have been an unknown expression until the spring of 2020, when so many people began to implement social distancing and self-quarantine in their homes. But unfortunately, along with the added safety benefits of staying at home, there were downsides too: isolation and depression rose as people felt the strain of disconnectedness.
But technology in 2020 is different than at any other point in our global history. And for the first time, new safety and health support systems could be implemented – sometimes with simply the download of a new smartphone application.
In fact, several new technologies allowed people to stay connected to loved ones, keep in touch with healthcare providers and get up-to-date information on disease and community spread. Just three of those include telehealth, smart speakers and emergency response.
Telehealth: Once a little-known healthcare term used to describe technology that enabled doctors to virtually visit patients in remote areas of the world, telehealth has now become a household name.
Companies like MDLIVE, Doctors on Demand and Teledoc catapulted into notoriety during the COVID-19 pandemic, as a result of their capability to connect patients with a board-certified doctor through a secure online video chat, a phone call or via a secure app – anytime, anywhere, 24/7.
Telehealth represents a low-cost, convenient alternative to Urgent Care Clinics or waiting days to get an appointment with a primary care doctor for non-emergency medical conditions. In a matter of minutes, doctors can diagnose symptoms, prescribe non-narcotic medication (if needed), and send e-prescriptions to the nearest pharmacy.
And as patients sought to avoid disease exposure during the pandemic, telehealth became a reliable option to address patient concerns without having to go into the traditional healthcare system.
"Enhancing patient access to quality care is a cornerstone of our company's mission," said Chris Otto, Senior Vice President for Clear Arch Health. "Virtual care is just one of the many ways we provide 24/7, convenient access to care. During the current COVID-19 crisis, however, when patients are fearful of being exposed to the virus and hospitals need primary care physicians to serve as the front door to keep patients from going to already overburdened hospitals, virtual care in the form of video chats, phone calls and texts, is more important than ever."
Most experts anticipate telehealth will continue to be a go-to resource for patients in the long-term – the convenience and safety it affords are simply too beneficial, especially during times of flu and virus outbreak.
Smart Speakers: Now synonymous with the term "voice technology," new smart speaker options are combining their best attributes to combat loneliness with the capability to merge with enhanced care platforms for a truly customized daily experience for older adults and their caregivers.
For example, a new solution from LifePod leverages popular smart home speakers to provide users with access to a proactive voice dialog management platform which makes it easy for caregivers to configure personalized voice dialogs for their patients and loved ones. This includes such features as:
A natural, two-way voice interface – both reactive and proactive;
Caregiver-configured check-ins and healthy-behavior reminders; and
Friendly, personalized voice-based dialogues.
According to Laurie Orlov, founder of Aging in Place Technology Watch, "LifePod takes voice-first services a step further. It will allow users to engage with the device, much like Alexa. But LifePod will also proactively check-in with them independent of a wake word or voice prompt, at preprogrammed intervals saying, for example: 'Good morning, Nancy. Did you take your medication?'"
These types of solutions stand to benefit older adults in need of aging in place technology, and those living alone by providing the capability to engage more fully with the outside world through the device — while also receiving specific care instructions from personal and professional caregivers.
Emergency Response: One of the most challenging aspects to the stay-at-home orders was the result that some of the most vulnerable community members were alone more regularly, without the benefit of regular check-ins from family members or neighbors.
Safety Tips for Seniors
To address this, many customers proactively addressed being alone by adding a safety net: a medical alert system which allows them to access help at the press of a button. These kinds of senior citizen essentials provide peace of mind for older adults looking to age in place safely at home.
"Many of our customers have reached out to order a new service, expand their existing service, or just to thank us for being here for them," said Rob Flippo, CEO of MobileHelp. "We got into this business to keep people safe wherever they went – whether they were traveling across the country or sheltering in the comfort of their own home. It's been a source of comfort to know that as we move through this pandemic together, that we have been able to wrap around people who need it the most, to provide them with access to help if they need it."
Implementing the above common-sense measures for health learned through the COVID-19 pandemic along with new home technology support systems, seniors and their caregivers can now plan in advance to weather any storm.