Why Pets are so Important for Seniors and Where to Get the Best Pet Insurance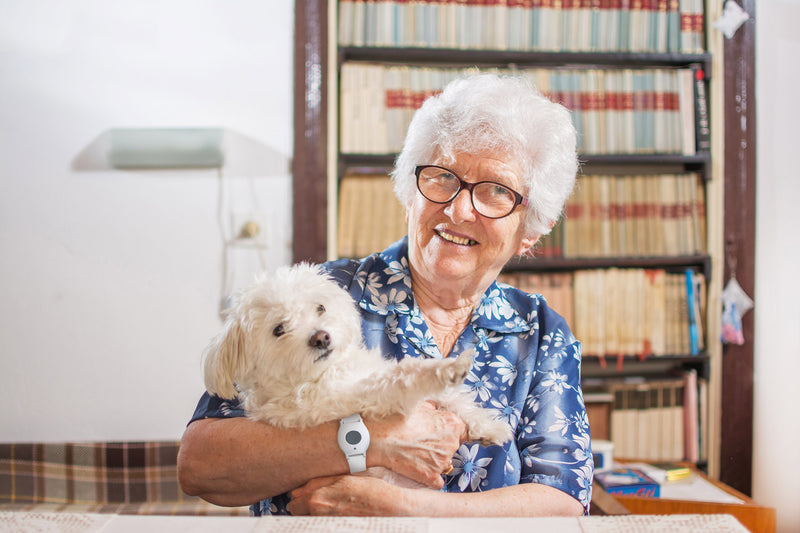 Getting older can sometimes be lonely. Adult children start families of their own, and other loved ones move away or pass away. It also may be increasingly difficult to participate in once-loved activities or even leave the house. But there is one source of comfort that benefits seniors in so many ways - pets.
Below you will learn about the benefits pets have on seniors, why pet insurance is so important, and where you can find the best and most affordable pet insurance.
Why Are Pets Important For Seniors?
One study lead by the National Poll on Healthy Aging suggests that one in three seniors are lonely. Other studies show that chronic loneliness may negatively impact your health by increasing your risk for:
Heart attack
Stroke
Depression
Early Death
While some older adults turn to therapy or medication, others have figured out that pets can significantly impact their quality of life. Here are the leading health benefits pets can have on seniors:
Lowers Blood Pressure – The American Heart Association conducted a study that determined pet-owning seniors have a lower blood pressure than non-pet owners. They also found that owning a pet can reduce your risk of heart disease and promote healthier cholesterol levels.
Reduces Stress – Evidence shows that just thinking about a pet can lower stress. Having pets nearby can also have a positive effect on stress when performing difficult tasks.
Improves Mobility – Regular dog walking can reduce obesity rates, increase cardiovascular health and improve joint & muscular strength.
Facilitates Social Interaction – Our furry friends, especially dogs, can be excellent facilitators for new friendships and conversations outside of the home.
What Is Pet Insurance? Why Is It Important?
Let's face it. Pets can be a serious investment. They get sick and have accidents just like we do. But there is a way to own a pet responsibly and avoid paying out-of-pocket medical expenses for your furry friend – pet medical insurance.
Like our own medical insurance, pet insurance is a healthcare policy for your pet that reimburses you for certain medical expenses. Standard pet insurance will cover most accidents and illnesses, but some exclusions may include dental disease, preexisting conditions, and hip dysplasia. Traditional plans have a monthly premium. Depending on the policy, you may need to pay a deductible and/or percentage of the bill.
How Does Pet Insurance Works
Once you get pet insurance, there may be a short waiting period in which coverage kicks in to prevent people from getting insurance when their pet is already sick. A health check-up is usually required before that waiting period starts and is typically only a few days.
When you are ready to use your insurance, you pay the vet bill up front first, and then you file a claim. Insurers will evaluate your claim for approval. Once approved, funds will be deposited into your account, or a check will be mailed to you. The reimbursement is contingent on individual plans and how they are structured.
Here are the main elements in which a standard plan is structured:
Deductible – This is the total amount you must pay before any of your pets' medical procedures are covered. A deductible is usually paid per year and may range from $0-$1000.
Reimbursement Level – After your deductible is met, the insurance will pay a percentage of vet bills, usually 50%-100%.
Annual Maximum – Each year, your pet insurance will stipulate a maximum amount it will pay in medical bills. You will be responsible for any charges beyond that.
Pet Insurance Costs
You might be wondering about the cost of pet insurance and asking yourself, "Is pet insurance worth it?" Prices can vary depending on your pet, your particular plan, and where you live. Insurers will determine the cost by looking at:
Species
Breed
Age
Location
There is a wide range in monthly premiums, with some as low as $10 and as high as $100. Pet insurance for dogs usually costs between $30 and $50 per month, with the average cost across 11 of the largest pet insurers at $42.45. Pet insurance for cats can be significantly lower, with the average monthly premium costing $20.99. You may be able to get instant pet insurance quotes online at each pet insurance website. Or you can check average costs in your state using this free database.
Best Pet Health Insurance
Now that you understand how vital pet medical insurance is, you may be wondering, "What is the best pet insurance?" Take your time in finding the right insurer for you and your pet. Many insurance companies run deals periodically, so you may find yourself saving a ton! You don't have to break the bank to keep your furry friend healthy. Protect your finances with health insurance for pets. Here is a list of the best pet insurance companies out there:
Embrace
Known for providing high coverage for dental illnesses, Embrace pet insurance allows you to visit any vet in the world with its no-network policy. Basic plans start at $6 a month for cats and just $12 a month for dogs. Embrace offers up to 90% reimbursement for vet bills and contains plans with unlimited annual maximums!
Pumpkin
Pumpkin may work better for you if you have multiple pets. It offers a 10% discount for each pet that you enroll in, and they reimburse up to 90% for accidents and illnesses. With their Preventative Care Option, Pumpkin will reimburse 100% for annual wellness exams and vaccines.  
Figo
Figo has a growing market share for its easy online access and robust coverage. The pet insurance firm offers up to 100% reimbursement for pet bills. Figo has annual limits with three different tiers starting at $5,000 and up to "unlimited."
Lemonade
Voted Editor's Choice 2021 and holding the world record for fastest claims payment, Lemonade is known for its super-low prices and customizable plans. Lemonade offers live chat with veterinary experts and maintains a five-star review. You can get an extra 10% off when bundled with renters or homeowners policy.
Pet Supplies
References
https://www.aplaceformom.com/resources/pets-for-seniors
https://petsfortheelderly.org/our-work/research.php
https://www.agingcare.com/articles/benefits-of-elderly-owning-pets-113294.htm
https://www.pawlicy.com/blog/is-pet-insurance-worth-it/
https://www.valuepenguin.com/pet-insurance/what-is-pet-insurance
https://money.com/a/best-pet-insurance/?pd=true&keyword=best%20pet%20insurance&gca_campaignid=12692353150&gca_adgroupid=122194806884&gca_matchtype=e&gca_network=g&gca_device=c&gca_adposition=&gca_loc_interest_ms=&gca_loc_physical_ms=9028071&gclid=CjwKCAjwg4-EBhBwEiwAzYAlsoE0v3asc8BiNmkSnM7DI9A_isIbHFXEM0FQPhea_xrAJgOZ6zDsVxoCU-IQAvD_BwE
https://top-pet-insurance.com/d/?utm_campaign=ggls-pi-dt-texas-top&gclid=CjwKCAjwg4-EBhBwEiwAzYAlsjTakILLsbloeKT-2yw7uhAv2EwakbwwIQqqI-AQdVEdg1t9Q23TkhoCQ94QAvD_BwE