CES 2017: MobileHelp® Launches Tablet Base Station First Medical Alert System with Interactive Tablet Screen Provides Enhanced Safety and Personal Health Management Features

LAS VEGAS – January 4, 2017 – MobileHelp® first medical alert system with an interactive touchscreen, to allow customers to share photos, send and receive messages and video chat with loved ones and healthcare professionals.
The tablet was designed to give consumers the ability to achieve better health management, with a potential reduction in healthcare costs: According to research conducted by Judith Hibbard of the University of Oregon, patients who are not engaged in their own health incur costs that averaged up to 21 percent higher than patients actively engaged in monitoring aspects of their own health.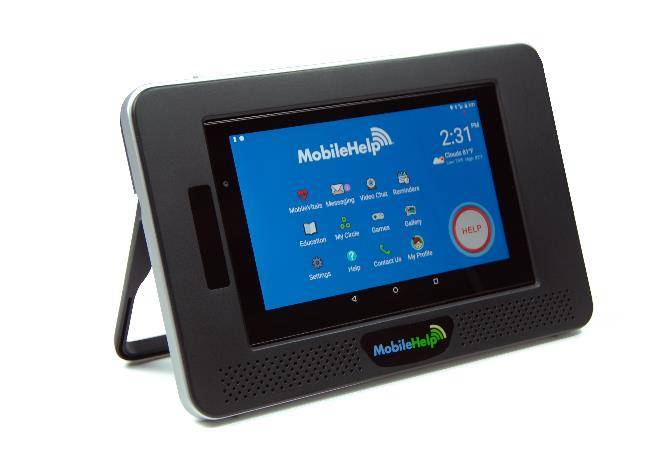 "As we move into the very near future, healthcare and its delivery will become radically more accessible through technology tools such as this," said Robert Flippo, MobileHelp CEO.
"MobileHelp will continue to extend its product platform to allow people to manage new aspects of their health."
In addition to giving consumers the ability to access emergency help if and when they need it, the tablet allows consumers to track and trend their vital signs through its MobileVitals application, and then communicate those results to their healthcare provider. Customers will set reminders and take their vital signs (such as weight, blood pressure, pulse, ad blood oxygen levels) from select BLE peripherals. Data will then be tabulated and presented to customers, accessible by merely touching the icon on the screen of the base station.
The touch screen tablet will also allow users to access the following product solutions from the company- all delivered over the tablet's advanced 4G LTE cellular network connections:
Video: Giving consumers the capability to interact directly with healthcare providers or loved ones, the video functionality is a key component of the tablet's telehealth aspects;
Medication reminders: Allows customers along with their authorized caregivers or family members to manage their medications, with the capability to add new prescription information, set and change medication schedules, and push out a medication reminder alert;
Activity tracking: this application utilizes MobileHelp's Fall Button™ and tracks the customer's activity levels on a daily, weekly, monthly and even yearly basis – and allows for their comparison over time. Comparing activity levels side-by-side with vital signs such as weight and blood pressure allows consumers to truly monitor the health-related benefits of increased activity levels;
Email: The tablet features easy-to-use email functionality, so users can connect with loves ones or healthcare providers on a regular basis;
Educational resources: Providing access to information, from disease-specific resources to broad-scale nutritional and exercise materials, the tablet allows consumers to acquire personal libraries relevant to their own health goals.
Educational games: In tandem with the educational resources, tablet users have access to games designed to cognitively challenge them.
As with previous base station and mobile device designs, the tablet will work in conjunction with the company's Fall Button, traditional pendant, Wall Button, and wrist buttons, and its newest BLE help button. It will also feature one-touch soft key access to emergency help from the main base station screen.
The tablet will be available through select healthcare providers Q2 with broad release to consumers by Q4 2017.
# # #
About MobileHelp:
Headquartered in the Research Park at Florida Atlantic University, MobileHelp is a leading provider of mobile Personal Emergency Response Systems (PERS) and health management solutions. MobileHelp's PERS devices are integrated with nationwide wireless voice, data and GPS technology to provide real-time medical alert monitoring services and expedited personal emergency assistance. In addition, MobileHelp offers proactive health management services such as activity tracking, medication reminders and a telehealth platform, MobileVitals, for both consumers and healthcare providers. For more information about MobileHelp, please call 1-800-989-9863 or visit the company website at www.MobileHelp.com.
For more information, please contact:
Liz Kohler
414-828-6198
liz.kohler@mobilehelp.com