Honeywell Life Care Solutions and MobileHelp Announce Business Collaboration

LAS VEGAS - January 5, 2015 - In order to provide consumers with a more comprehensive monitoring solution, Honeywell (NYSE: HON) Life Care Solutions, a global leader in health management technologies and remote patient monitoring, and MobileHelp, an industry leader in mobile medical alert technology, today announced they have expanded their existing business collaboration.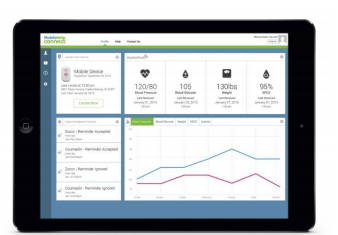 Creating a step-down solution for patients who are moving through the care continuum, Honeywell will now be offering MobileHelp's consumer-facing telehealth solution, MobileVitals, through its healthcare provider channel.
The offering will allow patients who are being monitored by healthcare professionals using Honeywell's remote patient monitoring devices to have an oversight resource following the 30-60- or 90-day period of reimbursable telehealth monitoring. Both companies have recognized that these patients are ideally suited for this solution. The basic clinical knowledge patients receive during the 30 to 90 day period with Honeywell's devices and biometric peripherals such as weight scale, blood pressure cuffs and pulse oximeters, provide a natural transition to MobileVitals.
"We routinely hear from healthcare providers that after the reimbursable window of time has expired, patients become anxious about losing the continuous medical oversight they experience when they are monitored by clinicians," said John Bojanowski, President, Honeywell Life Care Solutions. "MobileHelp's solution gives healthcare providers the opportunity to offer patients a 'step-down' model. Patients will now have the option to move from the clinical oversight of our monitoring devices to MobileVitals, a telehealth-lite system, which will allow for self-monitoring of vital signs as well as access to emergency help if they need it."
Through its collaboration with MobileHelp, Honeywell will offer its healthcare provider channel the opportunity to participate in a new referral program, using the MobileVitals system as a longer-term self-monitoring solution for patients.
"The healthcare system has demonstrated time and again that utilization of telehealth technology is a critical component for keeping people healthy and out of the hospital in the long-term," said Rob Flippo, MobileHelp CEO. "MobileVitals will offer patients the ability to conduct their own long-term monitoring of vital signs, leveraging the knowledge they have acquired while working with clinicians during the initial post-discharge period."
With a full line of peripherals available for patients to track their biometric data, MobileVitals is a new consumer-facing telehealth solution which offers the benefits of telehealth monitoring, captured via MobileHelp's medical alert system. Patients will be able to take their vital signs, and data will then be collected, tabulated and presented through the MobileHelp Connect® secure portal. The data will be available for the patient and any caregiver they authorize to view the information.
The MobileVitals components – which include interoperable peripherals, the MobileHelp Connect online portal, the cellular base station and/or the M-PERS application for smartphone – are designed to seamlessly integrate and update, while also providing the peace-of-mind emergency response function associated with automatic fall detection:
M-PERS Application: A new application for smartphones, the M-PERS app allows customers to have access to emergency help should they need it, while also syncing all MobileVitals peripherals. This new M-PERS app will be compatible with MobileHelp's new Bluetooth Smart Ready enabled Fall Button, a wearable help button with automatic fall detection enabling users to get emergency help, even if their smartphone is out of reach.
Cellular Base Station: The cellular base station (for use in the home) allows customers to have access to emergency help and serves as the connection point between the new MobileVitals peripheral devices and MobileHelp Connect, syncing the collected biometric data from peripherals and relaying it to the MobileHelp Connect online portal for display purposes.
MobileHelp Connect: To access MobileVitals data as part of the MobileHelp Connect portal, customers merely need to sign in online or through the corresponding mobile app and select the application within the user-interface. Data from the peripherals can be viewed in graph format for selected periods of time, daily, weekly, monthly or yearly.
MobileVitals Peripherals: Biometric peripherals initially available through MobileVitals include: a BLE weight scale, BLE blood pressure cuff, BLE pulse oximeter, and a BLE glucometer.
MobileVitals will be utilized in pilot programs within the Honeywell healthcare community in early Q2 2015, and available for general consumer purchase in late Q2 2015.

About Honeywell Life Care Solutions:
Headquartered in Brookfield, Wis., Honeywell Life Care Solutions, part of Honeywell Automation and Control Solutions, is a global leader in health management technologies and remote patient monitoring, providing the healthcare industry with integrated product and service solutions designed to improve the quality of patients' lives and reduce the cost of healthcare. For more information about Honeywell Life Care Solutions, please visit www.honeywelllifecare.com.
About MobileHelp:
MobileHelp is a leading provider of M-PERS (Mobile-Personal Emergency Response Systems) and personal health management technology. The company develops and distributes market-leading products such as Cellular DUO, a fully integrated medical alert system with GSM/GPS technology, which provides an in-home cellular base station and a mobile device to protect customers away from home. MobileHelp's M-PERS devices are integrated with nationwide wireless voice, data and GPS technology to provide real-time medical monitoring services and location tracking for expedited personal emergency assistance. In addition to emergency response services, MobileHelp offers proactive health management services such as Activity Tracking and Medication Reminders. MobileHelp, the first FDA registered mobile medical alert system provider, is a two-time recipient of Frost and Sullivan Leadership Awards, and was named to the 2014 Grow Florida Top Companies to Watch and ranked 111 overall in Inc. 500's 2014 list of Fastest Growing Companies in America. The company is located in the Research Park at Florida Atlantic University®. For sales or more information about MobileHelp, please call 1-800-989-9863 or go online to www.MobileHelp.com.