Manage - To Keep You in the Loop
MobileHelp Connect® is a suite of online tools to help customers and authorized caregivers, such as family members, actively participate in the subscriber's health and well-being. MobileHelp Connect standard features are available at no extra charge, and premium features are offered for an additional monthly fee. MobileHelp mobile GPS medical alert systems offer location services that can be accessed through MobileHelp Connect. Features available will vary depending on the type of system and accessories used.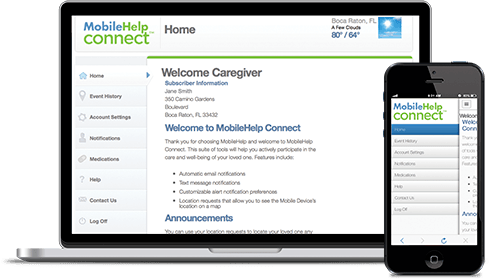 System Status Alerts
Non-Emergency Alerts
Emergency Alerts
Ability to detect location of Mobile Device - 30 location request per month included with your MobileHelp plan*
Note:*Additional location request packages can be purchased at $5 per 30 additional requests.
Taking medications on schedule can be an important part of daily life and can help prevent missed doses or overdoses of medication (which represent a major reason falls occur) and you can go confidently about your day.
Medication Reminders is easy to use:

Schedule Medication reminders online using our MobileHelp Connect Portal
Receive the friendly reminders through your Cellular Base Station
Make sure you take your medicine on time every day!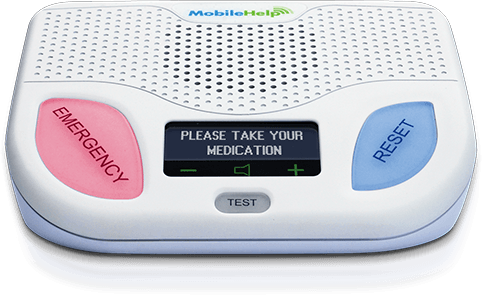 MobileHelp Activity Tracking allows customers to monitor their activity level on a daily, weekly, monthly and yearly basis. This premium feature utilizes the MobileHelp Fall Button™ to track activity levels and display them in an easy-to-understand format on the MobileHelp Connect® web portal. Activity Tracking can be accessed online by anyone the customer authorizes to participate in their health management such as family, friends or health professionals. This simple, easy-to-use feature can be a valuable informational asset to encourage customers to remain active.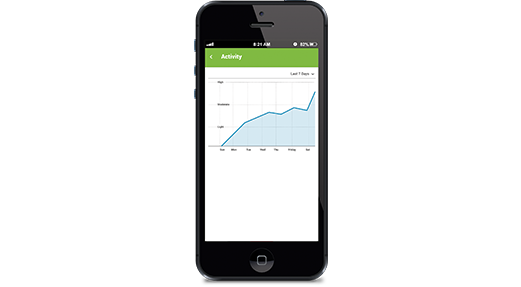 Activity Tracking is easy to use:

Easy to Read charts showing daily activity

Weekly, monthly and yearly views can reveal trends in health

Instant message notification to authorized participants alerts them to abnormal periods of inactivity

Email updates keep families and other concerned parties in the loop
MobileHelp Connect at a glance

View how easy it is to get started using MobileHelp Connect's set of online tools.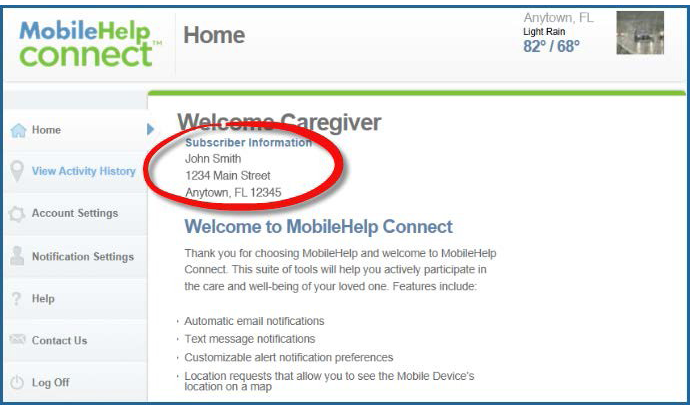 On the home page, you will find subscriber information, full name and address. This information is entered into the portal upon placing the order. If this information is no longer accurate, please have the subscriber call our Customer Support team to make changes. In this page you will also find announcements and usage tips that will help you fully take advantage of all the new and existing features this portal offers.
The "Locate Mobile Device" button in the top right corner of this page allows you to send a request for the current location of the Mobile Device if the subscriber received a Mobile Device with their MobileHelp system.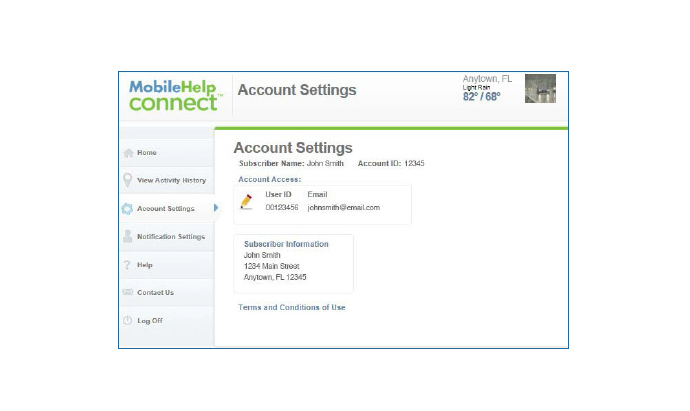 The Account Settings page allows the authorized user to change their login information. You will be able to view the subscriber's billing information, but you will not be able to change it at this time. If you need to change billing information, please contact our Customer Support department.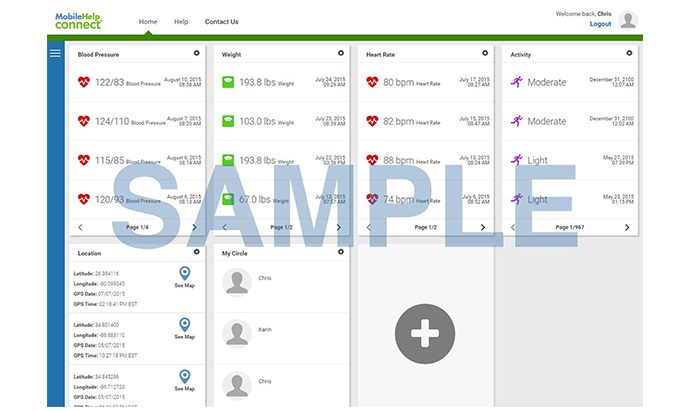 With MobileVitals, your home page will include different panels that will display your information. You may view the graphs on each of the panels by clicking the small gear icon at the top right hand side of the panels in MobileHelp Connect.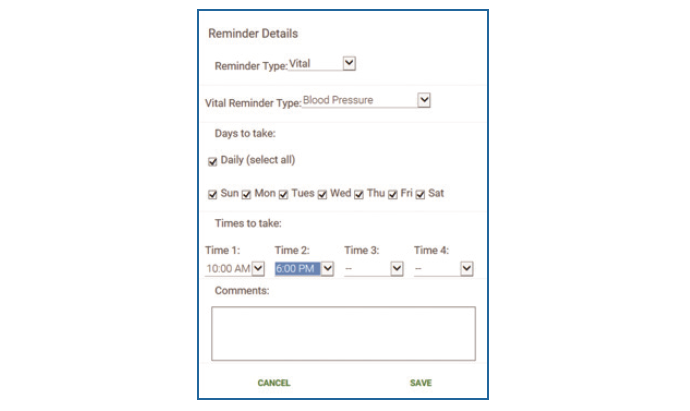 With MobileVitals, you can setup Vitals Reminders that will remind you when to check your vital signs using the peripherals you chose with your MobileHelp system.