MobileHelp® Honored to Receive "Best Overall Consumer Score" Award from Best Company Review Site

BOCA RATON, Fla. - (MarketWired - April 13, 2017) -   MobileHelp®, a leader in mobile Personal Emergency Response Systems (mPERS) and healthcare technology solutions, announced today it has received the "Best Overall Consumer Score" award in the medical alert industry space by BestCompany.com, an independent consumer review site.
Selected to receive this recognition from more than one hundred competing medical alert companies, MobileHelp distinguished itself with its impressive consumer review score of 9.4/10.
"We are honored to be recognized by our customers in this way," said Rob Flippo, CEO of MobileHelp. "We work hard to maintain a culture of extraordinary passion and dedication to our customers and their families, and this award reinforces the fact that we are providing the level of service we strive to achieve every day."
The "Best Overall Consumer Score" award from Best Company is based on the feedback from more than 450 consumer reviews, and includes a wide range of measurement factors that include: cost, contract, performance and consumer reviews, with reviews representing the most weighted portion of the score. The Best Company review method also employs an extensive user review process, in order to ensure accuracy and authenticity in site reviews.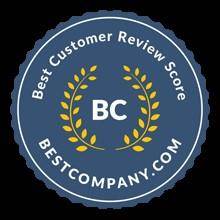 "We wish to congratulate MobileHelp on earning this designation as the company with the best overall consumer score in the medical alert industry," said Best Company CEO Jeff Grover. "Our hope is that these recognitions can further assist consumers with identifying which companies are worthy of their trust."
About MobileHelp:
Headquartered in the Research Park at Florida Atlantic University, MobileHelp is a leading provider of mobile Personal Emergency Response Systems (PERS) and health management solutions. MobileHelp's PERS devices are integrated with nationwide wireless voice, data and GPS technology to provide real-time medical alert monitoring services and expedited personal emergency assistance. In addition, MobileHelp offers proactive health management services such as activity tracking, medication reminders and a telehealth platform, MobileVitals, for both consumers and healthcare providers. For more information about MobileHelp, please call 1-800-989-9863 or visit the company website at www.MobileHelp.com.