MobileHelp® International CES 2015 New Products and Services

LAS VEGAS – January 5, 2015 – For the thousands of attendees at this year's International Consumer Electronics Show (CES) Digital Health Summit, MobileHelp® is featuring its complete line of products and services in booth #73135 in the South Hall, Ground Level. MobileHelp's product and service show lineup reflects the company's commitment to enhance the quality of life for its customers and their families.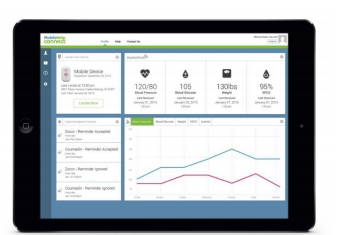 "The innovations we're highlighting at CES this year are rooted in our business objective: continuing to expand the medical alert industry by simultaneously increasing the safety of our customers while giving them the tools they need to better manage their health in the long term – with an ultimate goal of reducing personal health care costs," said Robert Flippo, CEO of MobileHelp.
"Based on feedback from our customers, we've developed new products and services that reinforce that goal, and invite show attendees to come take a look at how MobileHelp is addressing the long-term health management needs of seniors and patients."
MobileHelp Product Line-up at CES 2015
Throughout the duration of the show, January 6-9, MobileHelp executives and engineers will be engaging with attendees, demonstrating the company's new technologies, and discussing mHealth trends in the healthcare technology industry.
MobileVitals
With a full line of peripherals available for customers to track their vital signs, MobileVitals offers the benefits of identifying trends in biometric data, captured via technology already being utilized by the customer through the existing MobileHelp medical alert system. Customers will be able to take their vital signs from selected peripherals, collected through either the new Smartphone app and/or new Bluetooth® Smart Ready-enabled base station (available 2Q 2015).
MobileHelp Alert
A new application, MobileHelp Alert enables people to access emergency help using their smartphone, and/or Bluetooth pendant as opposed to other traditional medical alert devices.
MobileHelp Services
MobileHelp will be showing two recently-launched applications available through its MobileHelp Connect™ online portal: a Medication Reminders Application that enables customers to better manage medications and an Activity Tracking Application, which tracks the customer's activity levels on a regular basis and compares them over time.
MobileHelp Connect™
MobileHelp will also be featuring its MobileHelp Connect™ online portal and smartphone app, accessible to subscribers through the company's website. MobileHelp Connect™ provides a secure log-in site to virtually track and manage aspects related to the customer's health, including the new MobileVitals solution. It also provides user-authorized family members, friends or health care providers with a way to virtually check in with the MobileHelp customer.
MobileHelp Family of M-PERS Devices
MobileHelp will also be featuring its new Cellular DUO System – the industry's most complete medical alert system supporting automatic fall detection and online health applications – without the need for a landline in the home.
About MobileHelp
MobileHelp is a leading provider of M-PERS (Mobile-Personal Emergency Response Systems) and personal health management technology The company develops and distributes market-leading products such as Cellular DUO, a fully integrated medical alert system with GSM/GPS technology, which provides an in-home cellular base station and a mobile device to protect customers away from home. MobileHelp's M-PERS devices are integrated with nationwide wireless voice, data and GPS technology to provide real-time medical monitoring services and location tracking for expedited personal emergency assistance. In addition to emergency response services, MobileHelp offers proactive health management services such as Activity Tracking and Medication Reminders. MobileHelp, the first FDA registered mobile medical alert system provider, is a two-time recipient of Frost and Sullivan Leadership Awards, and was named to the 2014 Grow Florida Top Companies to Watch and ranked 111 overall in Inc. 500's 2014 list of Fastest Growing Companies in America. The company is located in the Research Park at Florida Atlantic University®. For sales or more information about MobileHelp, please call 1-800-989-9863 or go online to www.MobileHelp.com.