MobileHelp® Introduces MobileHelp Alert App

LAS VEGAS – January 5, 2015 – Empowering people with another means to get help in an emergency, MobileHelp®, a leader in Mobile Personal Emergency Response System (M-PERS) solutions, announced today its MobileHelp Alert app.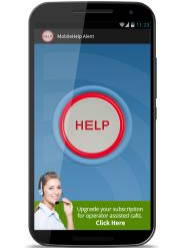 The MobileHelp Alert app allows consumers to access emergency help utilizing their Smartphone's GPS to pinpoint their location. MobileHelp Alert is monitored by a 24-hour emergency central station where operators will have the user's information on file and are able to dispatch the appropriate help – including 911 emergency responders. A "lite" version emergency app is also available which will automatically send a group text to family or other caregivers which have been preselected by the subscriber.
"As a company, we are committed to providing the best-in-class mobile emergency services. Whether it is through our own dedicated emergency response products or via a user's smartphone, we can provide the help consumers need, when and where they need it," said Robert Flippo, MobileHelp CEO. "The MobileHelp Alert app allows consumers a wider range of options for mobile personal emergency response, leveraging the smartphone they're already comfortable using as the delivery platform."
With the touch of a simple "HELP" button in the middle of the smartphone screen, the app uses onboard GPS technology to pinpoint the user's location, and then accesses the help they have pre-arranged at application set-up.
MobileHelp Alert: The more comprehensive version of MobileHelp Alert, this subscription level service provides users with 24-hour access to MobileHelp's trained emergency call center operators. As with MobileHelp's full-service medical alert devices, the operator will arrange for the level of help the consumer requires – whether that is a nearby loved one or the right level of emergency medical response. This level of service also offers an optional Bluetooth® Smart pendant, which can be worn and used to activate the app's emergency button if the user's phone is out of reach. And as with all MobileHelp medical alert services, there are no set up fees or long-term contracts required, and users can pay month-to-month for the service.
MobileHelp Alert Lite: The most simplified version of MobileHelp Alert, this level provides users with access to help via text messaging service. When the user activates the app's emergency button, an automatic text message will be sent to a preselected recipient(s) with location information of the user, so the text recipient can "see" where the user is on a Google map and provide the appropriate level of response or assistance. The Lite version is free for consumers to download and free for them to use. The lite version depends on the user's contacts to respond and does not include a 24-hour emergency operator.
The new app rounds out MobileHelp's full line of medical alert devices, and allows for a more inconspicuous option to access emergency assistance – for everyone from a teenager with Type I diabetes to the tech-savvy senior who lives alone.
The MobileHelp Alert Lite app will be available for download free of charge via Google Play. The MobileHelp Alert app will be available for a low monthly subscription fee. Both versions will be available Q2 2015.
About MobileHelp
MobileHelp is a leading provider of M-PERS (Mobile-Personal Emergency Response Systems) and personal health management technology. The company develops and distributes market-leading products such as Cellular DUO, a fully integrated medical alert system with GSM/GPS technology, which provides an in-home cellular base station and a mobile device to protect customers away from home. MobileHelp's M-PERS devices are integrated with nationwide wireless voice, data and GPS technology to provide real-time medical monitoring services and location tracking for expedited personal emergency assistance. In addition to emergency response services, MobileHelp offers proactive health management services such as Activity Tracking and Medication Reminders. MobileHelp, the first FDA registered mobile medical alert system provider, is a two-time recipient of Frost and Sullivan Leadership Awards, and was named to the 2014 Grow Florida Top Companies to Watch and ranked 111 overall in Inc. 500's 2014 list of Fastest Growing Companies in America. The company is located in the Research Park at Florida Atlantic University®. For sales or more information about MobileHelp, please call 1-800- 989-9863 or go online to www.MobileHelp.com.