Medical Alert System Reviews
Find out what our customers are saying. The following are reviews from actual customers in their own words.
Mobile medical alert systems provide protection for you or loved one. A fall or injury can be devastating to an elderly person. Receiving help as quick as possible ensures you will receive the best treatment.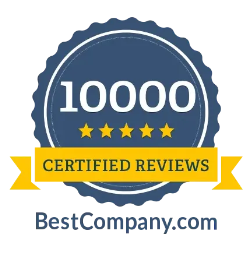 It can be difficult to talk to your loved one about getting a medical alert device, but the MobileHelp family offers insight on the value and service provided by MobileHelp®.
Medical alert systems can help provide responses to falls and other emergencies—situations where response times make a difference.
MobileHelp mobile medical emergency devices are designed to provide coverage and accountability wherever you go — whether that's to the mailbox or on vacation in all 50 states.* We have achieved the highest customer satisfaction. BestCompany.com has thousands of MobileHelp reviews left by satisfied customers which shows our commitment to our customers and reflects the quality of our products.
*Service availability and access/coverage on the AT&T network is not available everywhere and at all times.
Consumer Reports On Medical Alert Systems
What Consumer Reports Communicated About MobileHelp®
Consumer Reports has not rated medical alert systems, but provides information on what to look for in a medical alert system and their best features. In Consumer Reports' article, "What to look for in a medical alert system" they provided a review of MobileHelp's medical alert system. Of the 8 criteria that Consumer Reports wrote a medical alert system should meet all or most of, MobileHelp's medical alert systems has almost all of them.
The features detailed in the Consumer Reports article that MobileHelp has are:
Works for people with a disability
Offers a choice of wristband or neck pendant
Provides help buttons
Provide multiple choices of who to contact in an emergency including friends, relatives and emergency services
Have a battery backup
The base station can be contacted anywhere in your home or outside of your home
The monitoring center has been certified by Underwriters Laboratories (UL), a nonprofit safety and consulting company

Reviews.com's Report on MobileHelp®
"MobileHelp® is at the top of the industry when it comes to medical devices" Rated the best technology for medical devices!
The experts at Reviews.com raved about Mobilehelp's medical alert system's design, technology and options for active Seniors.  
Most Seniors want to remain at home, but the risks associated with "aging in place", falling and other emergencies are serious concerns. According to Reviews.com the best medical alert systems, including MobileHelp, "address these risks with reliable devices that can connect seniors with help, keeping them safely independent — and giving family members one less thing to worry about".
Here are important features Reviews.com highlighted about MobileHelp's medical alert systems:
MobileHelp "because they make their own devices, the company makes it easy to grow with its services as needs change, with upgrade options that include automatic fall detection and wall-mounted buttons"
"MobileHelp was an easy winner in the technology competition: it's base station was shared by three other finalists and its wristwatch device was the only we considered wearing simply for fashion.
We liked that MobileHelp provides both a necklace pendant and a watch option, and really liked that they were modern and sporty. Seniors prefer PERS devices to be as discreet as possible. "There's a stigma about them," says Novak. "Part of that is due to the media portraying individuals who use them as feeble or senile. But as their design improves — they are smaller or look like jewelry — they are becoming a bit more acceptable." MobileHelp's watch band is slick (a lot like the Apple Watch) and its pendant is a small, subtle pellet.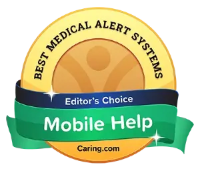 MobileHelp Medical Alert System Review on Caring.com
Best for Those Without a Landline
MobileHelp's Best Features
Unlike almost all other medical alert companies, MobileHelp exclusively uses cellular systems – both for in-home and mobile devices. Also unlike its competitors, MobileHelp doesn't charge extra for a cellular connection. This means that seniors without a landline who want an in-home system can often get a lower price from MobileHelp. For instance, MobileHelp only charges $19.95 a month for its in-home system. This price is the same as what one of its least expensive competitors charges for a landline system – to get a cellular in-home system, Bay Alarm Medical charges an extra $10, for a total of $29.95 a month.