MobileHelp® Announces New Initiative with the Volen Center

In celebration of ten years in business, local company works to give back
BOCA RATON, Fla. – August 26, 2016 – MobileHelp®, a leader in mobile Personal Emergency Response Systems (mPERS) and health management solutions, today announced the creation of a new local program with the Volen Center, designed to provide at-risk seniors with access to emergency help.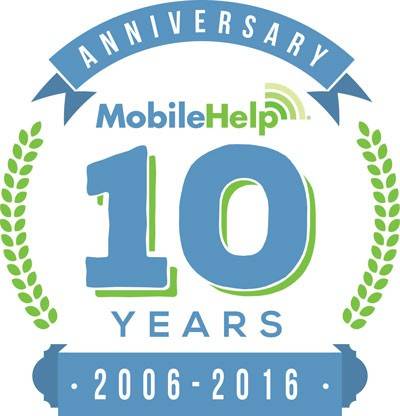 "Ten years ago, we started a company that was based on the idea that access to emergency help should not be limited to the four walls of a person's home," said Rob Flippo, CEO and co-founder of MobileHelp. "The locally-operated Volen Center has grown under much the same ideals: that by supporting the lives of our community members as they reach their golden years, we strengthen the community as a whole."
To that end, MobileHelp is partnering with the Volen Center to launch an initiative that will provide both medical alert equipment and service free of charge to older adults who could benefit from access to emergency help, but who are not able to afford a subscription service.
"Connecting our older citizens with the assistance they need to live the lives of their choosing is our mission," said Robin Goldberg, Director of Special Events and Donor Relations for the Volen Center. "We look forward to the work we can do with MobileHelp to provide our members with a new solution to support their lives."

MobileHelp will initially present the Volen Center with ten of its SOLO systems at its anniversary celebration this afternoon. The Volen Center will then be able to distribute the devices to its members, and MobileHelp will work with them to designate the right level of emergency service monitoring for each member.

"We are honored to partner with the Volen Center and to support the critical work they do within our community," said Mr. Flippo. "We look forward to an ongoing relationship with them as we continue to grow."
About the Volen Center:
To enhance the well- being of South Florida seniors, family caregivers, the disabled, and their families by educating and advocating on their behalf and by providing health care and supportive services that meet their physical, emotional, social and psychological needs.
About MobileHelp:
Headquartered in the Research Park at Florida Atlantic University, MobileHelp® is a leading provider of mobile Personal Emergency Response Systems (PERS) and health management technology. MobileHelp's PERS devices are integrated with nationwide wireless voice, data and GPS technology to provide real-time medical alert monitoring services and expedited personal emergency assistance. In addition, MobileHelp offers proactive health management services such as activity tracking, medication reminders and a telehealth platform, MobileVitals, for both consumers and healthcare providers. For more information about MobileHelp, please call 1-800-989-9863 or visit the website at MobileHelp.com
For more information, please contact:
Liz Kohler
414-828-6198
liz.kohler@mobilehelp.com